Top - Topshop
Skirt - H&M
Waistcoat - Topshop
(i'd like to mention i didn't go out in just this: i had my trust duffle coat!)
Another day, another post. I can't believe quite how cold it is today, or, how dark it is getting! I get up at 6:15am when i have 9am starts for University, and oh my god, it was pitch black outside! Not to mention i had left my window open in the night, and literally woke up shivering. As much as i love wrapping up for Winter (and lets be honest, buying a nice, new, A/W wardrobe), i hate having to travel out when the weather is so awful. Fingers crossed it doesn't snow also.
In other news, my new wide angle filter lens came in the post, yay (and and my remote), which means more outfit posts. Yipee! I am yet to show off my gorgeous camel cape that i purchased.
Speaking of which, Topshop's new
Snow Queen
collection is now in stock online - as much as i adore Topshop, i am unsure of this collection... there isn't really anything that grabs my attention.
Moving away from this, i am sad to see that is the last episode (and apparently series) of The Inbetweeners tonight. Although i admit, this season hasn't been as good, it's still made me giggle quite a lot, and cringe at Jays use of words.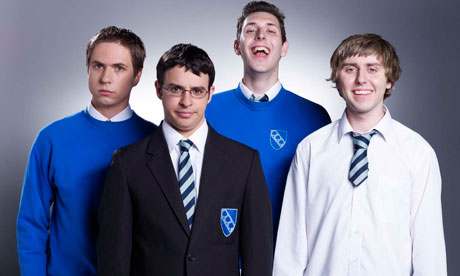 (L-R; Simon, Will, Neil, Jay)
What am i meant to watch on Monday nights now?! My USA shows aren't available to watch to the following day /sadface. I suppose now i have to use my time productively... i will no longer have an excuse to be behind on work, damn.
Apart from mourning over this fact later, i have a lovely nandos date to attend to, with a lovely boy(friend). Chicken + him = the perfect night if im being honest!
So ta'ta' for now.